In the quest to be a confident and competent homeschool mom, we often start looking at homeschool high school curriculum FIRST. And we quickly become overwhelmed at all the methods and courses and possibilities out there, am I right?
Actually, it's more important to determine your homeschool high school COURSEWORK plan first.
In other words, which courses will your teen be taking when? Have you planned out the four (or five) years of high school with a roadmap to follow, or are you winging it each semester?
Get your overall coursework plan together first, then come back here and start to look at reviews. Because it's only after you've developed your plan that you can choose curriculum that fits it. Decisions about which curriculum to use out of all the possibilities out there become much easier to make when you know the direction you're headed.
You see, it's my job to help you along this path, to get you to feel CONFIDENT. The only way to do that is to take each step one-by-one, without trying to decide too much at once — and then you'll feel much more capable of providing the high school education your teen needs. I believe you CAN do it!
So coursework plan first, then curriculum reviews after that. Mkay?
(If you now realize that you need information about high school coursework planning instead of homeschool curriculum reviews, LOL, then head to my How to Homeschool High School page and scroll down to the section on planning. That will get you the information you need!)
Or take a look at my book, which takes you step-by-step through the coursework planning process. All the info in one place, so you don't have to hunt for it: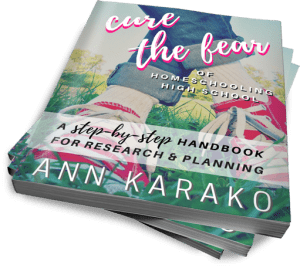 A Step-by-Step Handbook for Research & Planning -->You woke up recently and realized that your tomorrows are now TODAY. That kid who was just born yesterday—really!—is all of a sudden ready to start high school SOON. And you are feeling ...
Read More
But if you're ready to proceed, then let's do so!
All Homeschool High School Curriculum Reviews
If you are ready to start deciding about which curriculum to use, you are in the right place! This page has links to ALL of my articles and podcast episodes about individual subjects and the curriculum options that exist for them.
Obviously I haven't reviewed everything out there — I'm not Cathy Duffy nor Rainbow Resource, LOL — but there are lotsa high school curriculum choices that I do give my two cents about in the links below. AND there is also general information for how to teach each subject, which will also help as you make curriculum decisions.
When I look for homeschool high school curriculum options, I concentrate on just a few criteria that I prefer for our own homeschool:
not too much teacher involvement or preparation,
as easy on the budget as possible, and
usually of a fairly challenging difficulty level (although that varies by subject).
Most of the curricula reviewed below do meet these considerations (and when they don't, I tell you). So you can be confident as you look through them that I only recommend what we ourselves would and do use! They are arranged by subject, so keep scrolling until you find what you need!
Quick Links:
All Subjects
Math
Language Arts
History/Social Studies
Science
Foreign Language
Electives
Classical Conversations
Information and Reviews about All Subjects
Some articles have information about all subjects, so I've made them a separate category here rather than repeating them in each section down below.
Math Information and Curriculum Reviews
I used to be a secondary math teacher, so I have set a goal for myself to review as many homeschool math curriculum choices as I can. Below is what I've gotten through so far! Plus everything I know about getting your kids through high school math in your homeschool! Woot!
Overview: Homeschooling high school math doesn't have to be scary when you know everything about it! Read for all the details so you can be confident. Note: There are referral ...
Read More
Language Arts Information and Curriculum Reviews
Read the first article before choosing ANY language arts curriculum. It contains vital information that many misunderstand.
Overview: Finding a homeschool high school English curriculum is not as hard as it sounds. Pick what you want your teen to focus on, and do the rest another time ...
Read More
History / Social Studies Information and Curriculum Reviews
History and Social Studies are terms which are basically interchangeable when it comes to high school credits. So if you need 3 History credits (for example), some or all of those can be Social Studies courses, and vice versa.
Science Information and Curriculum Reviews
Foreign Language Information and Curriculum Reviews
Overview: Choosing to study Latin through high school can make good sense for several reasons. Seven of them, in fact! Ad astra per aspera. What does that say, you ask?? ...
Read More
Overview: Homeschool Latin instruction moves fast during the Challenge years. Some supplemental practice can sure help! Note: This post was sponsored by Rosetta Stone. I received the product for free ...
Read More
Electives Information and Curriculum Reviews
Planning for your teen's high school electives is the funnest part of the whole process of high school curriculum planning! Here you can get creative and enjoy the process of ...
Read More
Classical Conversations Information and Reviews
We participated in Classical Conversations from Fall of 2015 through Spring of 2018. I was exposed to all of the Challenge levels due to either having a kid in them or directing. We did eventually decide that CC would not be a good fit for us to continue, but I think the following information is still helpful to those who are involved in it now.