Give your teen the high school education you want for them — while maintaining your own sanity in the process!
NOTE: While this website is primarily about homeschooling high school, we are beginning to add information about homeschooling grades K-8. Click on "K-8 Resources" in the top menu!
Hi, I'm Ann, and I homeschooled for 22 years, including graduating all five of my children (the last one in May 2021). I believe EVERY mom can confidently, competently — and even contentedly! — provide the complete high school education her teen needs. Homeschooling high school can be your best years ever!
Quick Answers to Common Questions:
It may not always be easy, but it doesn't have to be THAT hard! Here you'll find resources to help you every step of the way.
Getting Started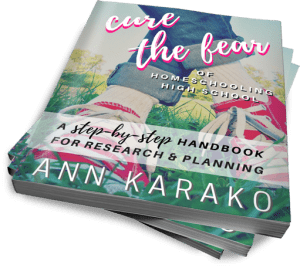 Cure the Fear of Homeschooling High School: A Step-by-Step Handbook for Research & Planning
Everything you want to know to be sure you're not missing anything. Gain the tools to make the decisions that are best for YOUR family!
Pressing Through
Save Your Sanity While Homeschooling High School: Practical Principles for a Firm Foundation
Get the nitty-gritty details about some of the aspects of this endeavor that can get challenging. Ease your mind and get practical advice you can actually implement.
Finishing the Course
Make an Impressive Homeschool Transcript with Ann's Fillable PDF Template
Just download, make a copy, and start typing — on any device! No crazy computer skills needed.
Ann hosts the
It's Not that Hard to Homeschool High School Podcast
Recently Published:
Browse the website: